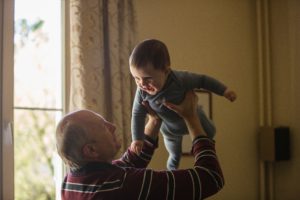 COPD Services for Home Health by Avatar Healthcare
Too often, patients and families feel overwhelmed when returning home after hospitalization for congestive heart failure. Accessing the right care and medical support is essential to help you manage your health and regain your strength.
The key to a successful transition is to bring in the right home care team. Then, through a personalized support plan, it's possible to regain your strength and manage overall health in the comfort of your home.
At Avatar Healthcare, our team is committed to providing full-service solutions for every patient. Our Avatar Care One Specialty Program is designed to offer the care and support you need when managing congestive heart failure in the comfort of your own home.
Contact Avatar About COPD Services at Home
Start benefiting from our home health COPD services
What to Expect: Avatar Care One Specialty Program
The Avatar Care One Specialty Program is a holistic, research-based approach for patients who need care for congestive heart failure.
Through the Avatar Care One Specialty Program, you:
Meet 3 – 4 times per week with a member of the Avatar Care team

Maintain independence by learning how to monitor your health – and when to seek help

Decrease the risk of hospital readmission

Slow the progression of heart failure and reduce symptoms

Improve overall quality of life
If the Avatar Care One Specialty Program is the right fit for you, then we customize the ideal plan to fit your needs and lifestyle.
Benefits Available for COPD Patients & Families
Why should you consider the Avatar Care One Specialty Program for congestive heart failure? Here are just a few of the benefits you can expect from these quality services:
Care Coordination:

Open communication is critical between caregivers, hospital staff, and social workers. Our team facilitates the conversation to ensure seamless services from all providers.

Expert Medical Services:

You have access to registered nurses (RNs) who are specially trained to help patients with these specific health concerns.

24/7 Telemonitoring:

You are never alone because medical experts are continuously monitoring your health. Any change in health status is addressed right away. In addition, you will receive top-notch tools such as a blood pressure monitor, scale, and pulse oximeter.

Patient Education:

Our goal is to empower patients and families through education. You will learn about disease management, exercise plans, weight control, and heart-healthy menus.

Point of Contact:

It's easy to find answers to your questions when you have a single point of contact. You and your caregivers can reach out to your Avatar representative at any time.

Community Resources:

The best way to provide full-service support is by connecting families with available community resources and information. We help you access additional care as needed, such as occupational, speech, and physical therapy.
Ultimately, the Avatar Care One Specialty Program is a customized care solution to give you the home support you need. Our goal is to offer peace of mind and quality services, helping you and your family navigate the changes that are occurring as you transition from the hospital to your home.
Multimodal Approach to Improve Outcomes
Not only do these services reduce hospital readmission, but we also want patients to feel healthy and independent in their homes. Therefore, we use a multimodal approach to help you access all of the care and services that are needed during this time.
When you are working with Avatar Health, you have access to an entire network of support staff. Each patient receives a customized care plan. Your services may involve everyone who can offer the complete care you need to regain strength and health. We facilitate services and communication between:
Patients and caregivers

Physician and cardiologist

Home health care nurse

PT, OT, and speech therapists

Community support
Collaboration between your healthcare providers and support staff is critical during your recovery.
This well-rounded approach is centered on the unique needs of each patient. You'll work with our team to find the perfect fit that enables you to recover and enjoy the best life possible after hospitalization for COPD.
Ongoing Health Monitoring – At Home
This care plan is based on a research-based approach, using holistic strategies to improve your outcome. Each COPD plan is focused on symptom management, health improvements, and early intervention to prevent hospital readmission.
Here's an overview of what your COPD plan might include:
Vital sign monitoring

Breathing techniques

Diet and exercise recommendations

Medication management

Smoking cessation support
This approach prevents life-threatening problems and reduces the risk of hospital visits by focusing on early interventions and preventive services. We prioritize self-care (assisted by caregivers when needed) with ongoing care and services from expert medical providers.
Why At-Home Health Monitoring is Critical for COPD Patients
The ideal approach for COPD management is early intervention to prevent hospital readmission. Through ongoing health monitoring, we can implement immediate medical support and manage symptoms to avoid the need for a patient to spend more time in the hospital.
Our team uses at-home health monitoring to check your progress, even when healthcare providers aren't on-site. Additionally, we help with other services and support to improve overall lifestyle and reduce potential complications.
Your COPD plan might include:
Monitoring vital signs

Medication management

Breathing techniques

Diet and exercise planning

Support for smoking cessation
Ultimately, the goal is to minimize the risk of life-threatening issues that can affect COPD patients. In addition, through prevention and early intervention, we can reduce the chances of you needing to go back to the hospital.
Since patient independence is always a priority, we focus on patient and caregiver education through a self-care plan. This approach is supplemented with ongoing services from an experienced medical team.
Do You Need Home Health Care for COPD?
How do you know if it's the right time to reach out to our team at Avatar Healthcare? If COPD impacts your life, then we invite you to schedule a consultation to learn more.
These are just a few of the signs that our Avatar Care One Specialty Program might be the right fit for you:
Daily activities are limited because of shortness of breath

Ongoing flare-ups of COPD symptoms

Necessary use of steroids, bronchodilators, or antibiotics to avoid hospitalization

Higher risk of falling because of weakness and fatigue

Difficulty managing medications and inhaler usage

Desire to manage COPD symptoms before they cause hospital readmission
If you are looking for ways to support your health and maintain independence at home, then we are here to help.
When you are ready to learn more about in-home care for COPD, we invite you to schedule a consultation with our experienced team at Avatar Healthcare. Available services include home health, hospice, and personal home care services – with a focus on personalized solutions for every patient. Book an appointment online or by calling Avatar Healthcare at (844) 422-5528.
Contact Avatar About COPD Services at Home
Start benefiting from our home health COPD services