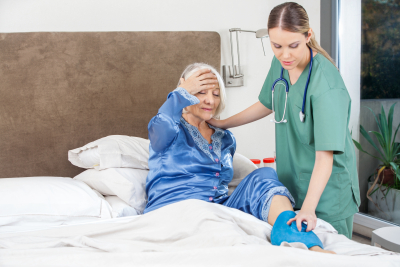 At Avatar Healthcare, our personal home care assistance team can help you maintain your regular daily activities in the comfortable privacy of your own home. Care begins with highly trained, professional caregivers, carefully matched to your needs and preferences. Supervised care is available on an hourly, live-in/24-hour, or as-needed basis.
When is personal home care appropriate?
Home care is ideal for individuals who prefer to age and recover in the comforts of their own home. Whether you just need companionship or if you need a little extra assistance with daily chores, our home care services may be the solution you need.
What services are available?
We offer a broad range of personal home care services tailored to your specific preferences and needs, including:
Companionship
Assistance with Activities of Daily Living
Medication Reminders
Meal Preparation and Assistance
Homemaking
Mobility Assistance
Safety Supervision
Respite Care
Transportation Assistance
Other services as required
Who is eligible?
Seniors, people with disabilities, individuals recovering from an injury or illness, and other people who prefer to receive care in the comfort of their own home may be eligible to receive home care services.
Get in Touch
For an evaluation of your personal home care needs, Set an Appointment now. If you have other questions, contact us at 844-422-5528 for assistance.
Maintaining independence at home is the desire for many older adults, but it's common for disabilities and illnesses to make it difficult. If you or a loved one wants to age in place, then bringing in medical and home support can be the solution to support daily needs in the comfort of home.
At Avatar Healthcare, we offer full-service solutions for personal home care, palliative care, and more. If you need personal home care or in-home medical services, we invite you to reach out to our experienced team to design a personalized plan.
The first step is to learn about available services. Once you understand your options, your family is empowered to choose the best solutions for all types of in-home care that are needed.
What Is Personal Home Care?
It is essential to understand the difference between personal home care and medical care. Personal home care focuses on non-medical support, designed to help a person live at home for as long as possible.
Home care focuses on assistance with daily living activities – such as personal grooming, eating, dressing, toileting, and bathing. In addition, caregivers often offer support for other routine activities around the house.
This individualized care focuses on your unique needs and can be the answer to delay or avoid the timeline for moving to a skilled care facility. Home care services are available on a short-term or long-term basis, depending on the person's circumstances.
Personal home care aims to ensure the person's safety and well-being while living at home. When someone is aging and requires assistance, it can be helpful to have support from aides, nurses, and therapists.
Examples of Personal Home Care
The goal is to help each person achieve the highest quality of life while maintaining their independence as much as possible. Home care not only eases the management of health conditions but also improves safety and reduces the risk of unnecessary hospitalization.
Examples of personal home care include:
Assistance with daily grooming, such as bathing and dressing

Help managing tasks and activities around the house

Personal companionship

Rehabilitative services

Shopping and meal planning

In-home accommodations for fall prevention

Assistance with safe movement within the home

Supervision for someone with Alzheimer's disease or dementia
Escorting the person to appointments
The good news is that personal home care services are always customized to each individual's unique needs. Therefore, one or more providers can be involved based on your preferences and requirements for the care plan.
Everyone on the personal care team is working towards the same common goal: enabling more independent, happy living for the individual. At the same time, the family and caregivers benefit with more peace of mind.
How Personal Home Care Differs from Home Health
Even though home care and home health might sound like similar services, there are distinct differences. For example, personal home care focuses on non-medical activities, which means that non-skilled caregivers can offer assistance.
Home health care is centered on medical needs. As a result, nurses, doctors, therapists, and highly trained providers must offer these services. A physician oversees the medical team.
Home health medical care can include tasks such as monitoring vital signs, administering medications, or caring for medical equipment such as a catheter, feeding tube, tracheostomy, or ventilator.
A personal home care plan doesn't include things such as medication administration, health treatments, or checkups. Since there are differences between these services, it's common for people to need both personal home care and home health services at the same time.
Is Home Care Right for You?
Every person is unique, which is why you shouldn't assume that specific services are needed or desired. Instead, it's important to consider the individual needs and circumstances while finalizing the details for a care plan.
Here are a few signs that someone can benefit from personal home care services:
Messy Living Space:

The person isn't able to keep up with daily chores, such as dishes, laundry, and house cleaning. Clutter, piles of dirty laundry, neglected yard care, and other messes in the home, are warning signs that the person could use assistance.

Declining Personal Hygiene:

You notice that their appearance is starting to change, and they aren't keeping up with activities such as bathing, grooming, or brushing their teeth.

Mobility Concerns:

When someone's mobility is declining, there is an increase in safety issues in the home. If the person is falling or getting injured, it's a sign that home care services might be helpful.

Confusion or Mental Concerns:

When significant memory problems begin, it becomes increasingly hard to maintain independence. Watch for warning signs, such as forgetting routine tasks, getting lost, or not remembering basic information.
In the earliest stages, family members might be able to offer the care and support a person needs. Eventually, as the person's physical and/or mental health declines, it can become necessary to bring in outside support.
Who Pays for Personal Home Care?
Medical-related services, such as home health care or palliative care, are often paid through insurance coverage, Medicaid, or Medicare. A doctor certification must be in place for someone to receive these medical services in their home.
On the other hand, there isn't always insurance coverage available for personal home care. As a result, these in-home services often need to be paid for by the family or person receiving the care.
If the person has long-term care insurance or qualifies for Medicaid, then financial support might be available. Talk to our team at Avatar Healthcare so we can help you explore options to pay for these services.
Getting Started with Home Care Services
Companionship and personal home care services don't require a doctor's authorization or medical oversight. So, the individual and their family can choose the timeline that best fits their needs.
When you are working with our team at Avatar Healthcare, we provide full-service support in planning and implementing the ideal home care plan.
Some people want just a few hours a week to keep up with household chores. Other people need daily services. Options are available up to 24 hours a day, 7 days a week if necessary.
Our experienced team at Avatar Healthcare is here to help. We specialize in home health, hospice, and personal home care services. Call today to learn more: tel:(844) 422-5528.