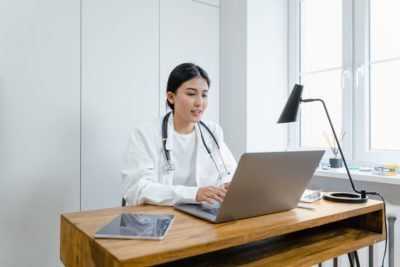 Telehealth and Home Health Monitoring Services
Telemonitoring, or telehealth, is a win-win solution for both patients and doctors. When doctors can monitor patients from a distance, it improves the quality of care for the patients. Your doctor can see what is happening with your health without the need for you to visit the office frequently.
Avatar Healthcare Telehealth is a great way to supplement in-person medical consultations, creating a win-win solution for both patients and doctors.
When doctors have the technology to monitor patient health from a distance, it improves the overall quality of care between medical appointments. There's no need to visit the office frequently when you can connect with your doctor online.
Contact Avatar About Telehealth Services at Home
Start benefiting from our telehealth services
What is Telehealth Home Health Monitoring?
Home health monitoring, also known as telemonitoring, is a health service that involves remote monitoring of a patient's health data. Patients use technology at home with automated services sending relevant data to healthcare providers.
Data transmission must meet HIPAA compliance regulations for privacy and security. Periodic reporting is scheduled and sends patient information at certain intervals, even when no readings fall out of predetermined parameters.
This secure system helps patients receive ongoing medical monitoring without the need to visit a doctor's office frequently. Online management and evaluation allow doctors to provide ongoing support with minimal face-to-face visits.
These services are available through Medicaid coverage. TX Medicaid for Telemonitoring Services must authorize all providers offering home health monitoring.
How Telehealth Monitoring Works
If you aren't familiar with telehealth monitoring, then there is an overview showing how this system works:
An initial visit happens with the patient and doctor.

Patient eligibility is determined, and personal information is entered into the portal.

Once pre-authorization is obtained, then the patient reviews the plan of care and signs a consent form.

Monitoring equipment is provided to the patient, along with necessary training to use the equipment properly.

Checkpoints are in place to ensure adherence and monitor patient data.

The doctor and supporting office staff members review and share incoming data based on the patient's care plan.

The doctor's office receives and reviews renewal information as needed.

Everyone is reimbursed for the services through Medicaid or other insurance coverage.
Why Telehealth/Home Health Monitoring?
Technology offers a variety of tools that support patients and inform doctors more effectively. Here are some of the benefits of telemonitoring:
No Out-of-Pocket Costs:

Often, telemonitoring is reimbursed for eligible patients through THMP or insurance coverage.

Personalized Care:

Health information gathered through telehealth provides valuable insights to improve the quality of care for each patient.

Immediate Notifications:

If there is a deterioration of vital signs, then the doctor is notified immediately. This allows patients to seek prompt medical care when necessary.

Ongoing Treatments:

When doctors have continuing information about the patient's health, then it improves the likelihood that the patient will receive the right services. Telehealth makes sure patients aren't ignoring health conditions.

Family Communication:

Not only is the doctor staying informed, but family members can also access relevant health information for their loved one. Remote logins offer information about progress monitoring, vital signs, and more.

Around the Clock Access:

Telemonitoring providers offer 24/7 access, which means that patients can receive medical support at any time – day or night.

Patient Engagement:

You can be more involved in your medical care through ongoing engagement with the health data and your doctor. Telehealth includes patient education and feedback surveys to facilitate two-way conversations.
Benefits of Telehealth and Home Health Monitoring
It's easy to see how telehealth and digital monitoring can improve the overall care a patient receives. The goal is to keep your doctors informed and support your medical plan as your health needs change over time.
Here are just a few of the benefits you can expect from telemonitoring services:
24/7 Care:

It's unnecessary to keep a nurse in the home around the clock to monitor the patient's health. Telehealth provides ongoing monitoring during the day and night, ensuring medical support is always available when needed.

Reimbursed By Insurance:

You don't need to pay for out-of-pocket costs because these expenses are reimbursed through insurance or Medicaid coverage.

Customized Support:

The goal is to improve the quality of your medical care. Technology gathers and shares medical data with your healthcare team, providing valuable insights to enhance your treatment plan.

Real-Time Notifications:

When a patient's vital signs are declining, then the doctor receives an immediate notification. As a result, instant medical care can be provided to minimize further complications.

Continuing Treatment Plan:

It's easier for medical providers to adjust the treatment plan over time, using ongoing patient health data. As a result, these insights increase the likelihood that the patient will receive the ideal treatment plan since concerning health conditions are continuously monitored.

Better Communication:

Not only do medical providers receive optimal communication about the patient's health condition, but family members also have access to relevant information. Caregivers and loved ones can access information about vital signs and monitoring through remote logins.

Patient Involvement:

Telemonitoring provides patients with immediate feedback about their health, helping them take a proactive role in their medical care plan. Ongoing engagement empowers patients as they work with doctors and healthcare providers.
When is Telehealth Recommended?
Home health monitoring is an ideal solution when a person has a chronic condition that requires ongoing medical treatment.
One example is hypertension: In 2018, an estimated half a million people in the United States died with hypertension as a primary or contributing cause of death. It's possible that a portion of these deaths could have been prevented through telemonitoring.
Home health monitoring is ideal for patients with:
Hypertension

End-stage organ disease

Pregnancy

COPD

Heart disease
At Avatar Healthcare, we can help with eligibility determination to ensure you get access to the optimal treatments for your unique healthcare needs.
Doctor and Home Health Agency Responsibilities for Telehealth
As a patient, you should understand the responsibilities of both doctors and home health agencies in telehealth.
Doctor Responsibilities:
Register each patient for telemonitoring.

Receive verbal consent for recommended care plans.

Log time and review patient health data using logins (ensures reimbursement).

When required, interact with the patient through the platform to discuss findings and treatments.
Home Health Agency Responsibilities:
Pay for everything relating to telemonitoring services, connectivity, and support – such as devices and consumables.

Obtain pre-authorization for each patient.

Finalize patient forms for consent, acceptance, and delivery.

Log and monitor adherence to ensure reimbursement.

Offer 24/7 support when patients need help, including escalation when necessary.
Avatar Telemonitoring Program
Leveraging technology allows us to offer a better experience for each patient. The Avatar Telemonitoring Program caters medical care to your needs. As a result, we can improve quality of life and reduce hospital readmissions at the same time.
Our team at Avatar Healthcare is here for you! We work hard to ensure that your medical needs are always met. If you require home health, personal home care, or hospice services, reach out to us. Call today: (844) 422-5528.
Contact Avatar About Telehealth Services at Home
Start benefiting from our telehealth services