Our Hospice Services
24-Hour Care for times of crisis
Skilled Nursing
Case Management
Medical Social Services
Respite Care
Pain Management
Medication Assistance
Spiritual Services
Bereavement Support
Home Health Aide
Other services as required – ST/PT/OT
Outstanding Hospice Services
When the family of a patient explores hospice care, they are doing their part by being informed. Hospice is a personalized plan to help a loved one find the relief, dignity, and highest quality of life.
At Avatar Healthcare, our full-service team offers a variety of solutions for end-of-life care. Our goal is to support the patient and close family members with physical, emotional, mental, and spiritual care. In addition, these hospice services allow families to optimize their time together and create lasting memories.
While hospice care often includes pain and symptom management, the services extend far beyond these basic medical needs.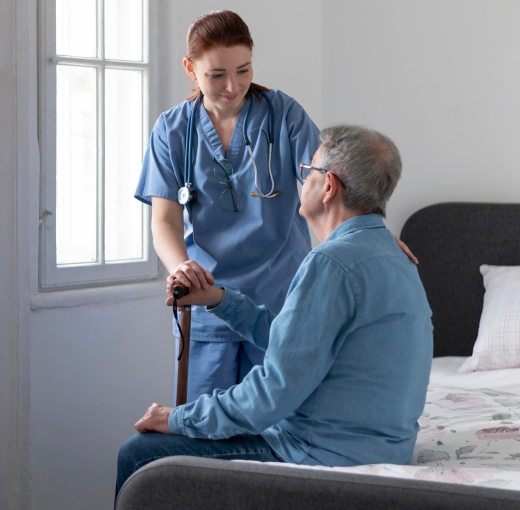 Making each moment matter.
"Loss of mobility is the single biggest indicator of limited life prognosis"

– American Academy of Hospice and Palliative Care Physicians
What is hospice?
Avatar Healthcare offers hospice care for patients and families dealing with life-limiting and advanced illnesses. Hospice is comprehensive social, medical, and spiritual care that supports patients and their families when an illness no longer responds to curative treatments, or when a patient chooses not to pursue aggressive therapies.
When is hospice appropriate?
Hospice is designed for patients with advanced terminal diseases. However, families are encouraged to consider hospice care as soon as a family member is diagnosed with a terminal disease, such as cancer, COPD, or heart failure.
What hospice services are available?
At Avatar Healthcare, we cater to the needs of both the patient and their family members.
The purpose of hospice services is to improve quality of life through a full range of services. Individuals work with their hospice care team to access a variety of resources, including:
Financial assistance
Personal care services
Resources
Education
Emotional support
Caregiver respite
Spiritual comfort
Counseling
Grief Support
Together, we honor the patient's wishes and provide essential support to the patient and their caregivers. Often, these services are beneficial in extending the time that families can spend together.
Discuss your options
Benefits from
Hospice Services
As you learn more about available services through hospice, it's easy to see the benefits you will receive by working with a hospice team. Common benefits include:
Any Location
Hospice services allow the patient more flexibility in choosing their location. Often, hospice enables a person to move back home or to an assisted living center after being in a hospital or skilled nursing home.
Physical Relief
Pain and chronic symptoms are often a big area that needs to be addressed. When a patient declines curative treatments, then hospice fills in the gap by providing pain management and symptom relief.
Personalized Plan
Every patient is unique, which is why there isn't a one-size-fits-all hospice plan. Instead, we work with you to find the ideal services to align with your preferences.
Financial Options
Hospice might seem like an expensive care plan. But the good news is that most people qualify for hospice coverage through insurance or government health programs. Qualifying for hospice can reduce the financial burden on the family.
Full Service
The good news is that our experienced team at Avatar Healthcare can provide you with a full range of services to support every area of your life. There's no need to choose multiple providers when we have all of the staff, medical supplies, and resources you need.
What is the Difference Between Hospice and Palliative Care?
All hospice care is palliative care; not all palliative care is hospice care.
Palliative care delivered by the following providers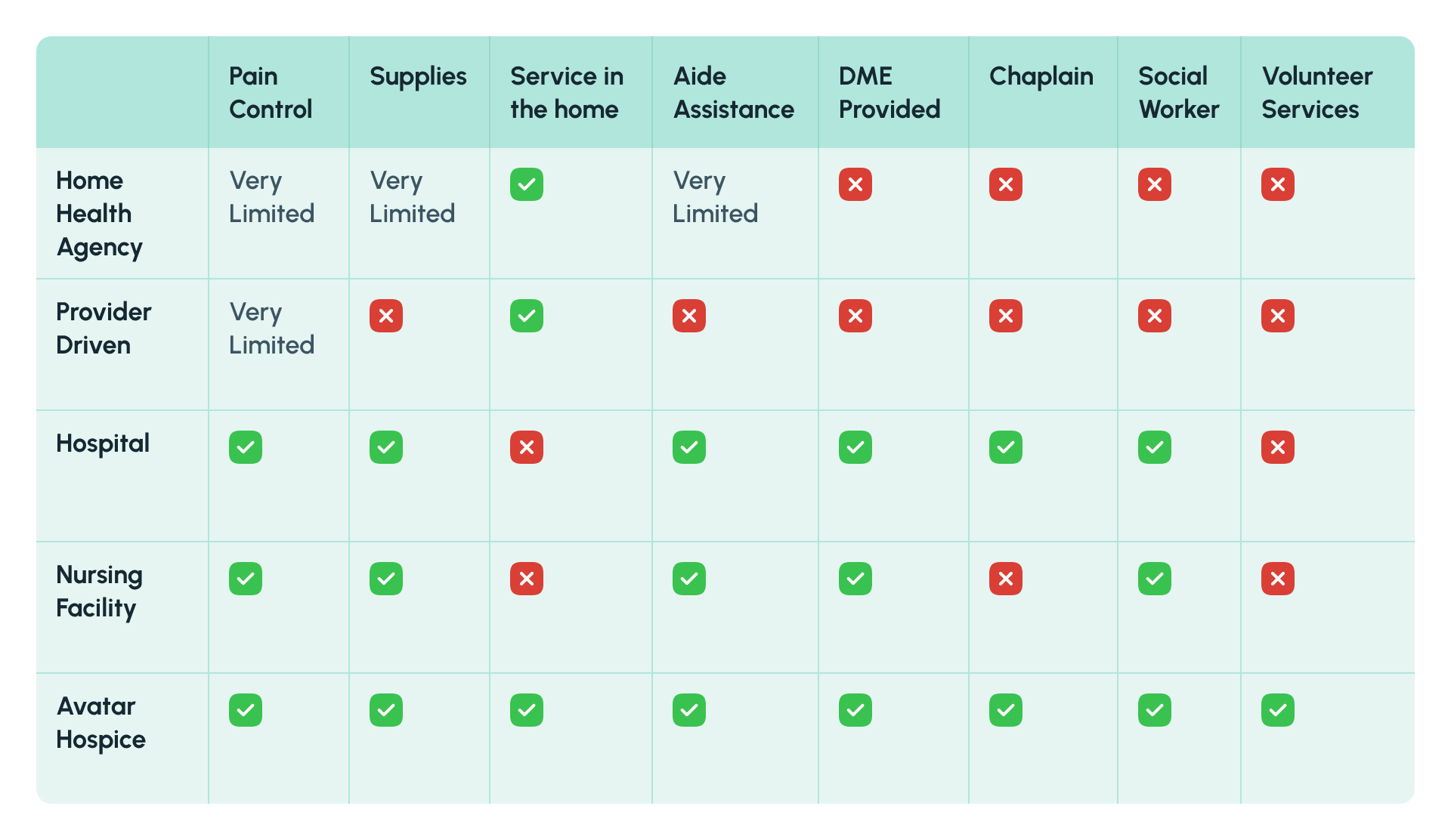 For further assistance please reach out to us.
How Much Does Hospice Cost?
The good news is that most families don't need to pay much money for high-quality hospice care. The financial burden can be a challenge during this difficult time. Qualifying for hospice means that you can tap into available financial coverage. 100% of hospice services are covered through healthcare providers, including:
Medicare
Medicaid
Private Insurance
Veterans Administration
Check into details about your personal coverage by talking to our hospice team at Avatar Healthcare. We'll help you get in touch with your insurance provider to understand details about your coverage. Our goal is to reduce the family's financial burden as much as possible.
Getting Started with
Hospice Services
Is it time for you or a loved one to use hospice services? Then you must get a referral from a doctor and talk to a hospice care team. You have the option to talk to your doctor first. Or, contact us at Avatar Healthcare so we can assist you in getting the hospice certification through your doctor. We offer full-service support every step of the way.
Just because you talk to our team doesn't mean that you must begin hospice services immediately. In fact, patients are never required to stay on a hospice plan indefinitely.
You always have the option to opt-out of hospice care for any reason. Then, you can re-engage these services when the timing is right if you still qualify for hospice benefits.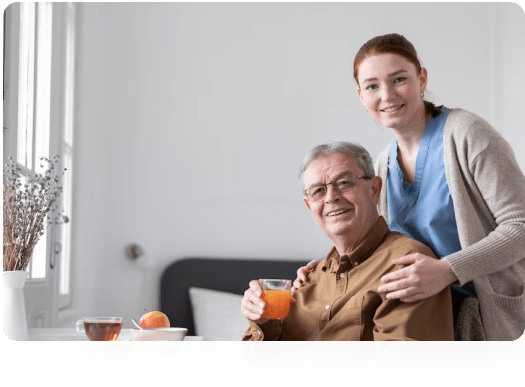 Terminally ill patients with a 6-month or less life expectancy, if the disease runs its normal course, are eligible for hospice care services. Patients who choose to no longer pursue aggressive therapies may also be eligible for care.
Discuss your options with a nurse today. Being informed helps families make the best decisions.
We are here for you and your family. Call us at 844-422-5528 or Discuss Your Options with Our Team at your earliest convenience.